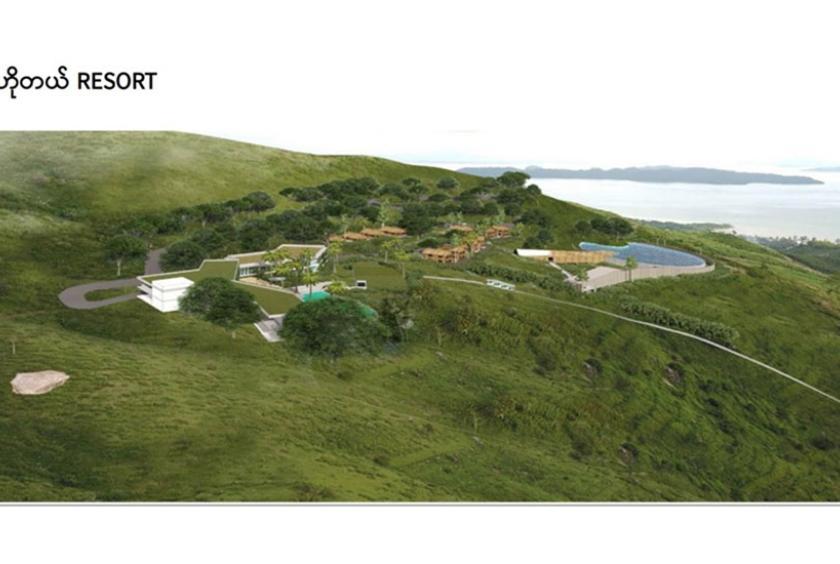 MYEIK—Yoma Strategic Holdings and First Myanmar Investment Company (FMI) will be investing Ks 105 billion in Kawtthaung Hill Development Project which includes international standard Museum, Hotel and Villas, according to the sources.
The project will be implemented on 1199 Mountain situated in Kawtthaung Township, Kawtthaung District, Taninthari Region.
The officials explained about the Environmental Impact Assessment-EIA to the locals in July's second week.
"Although locals were invited to attend the briefing concerning the project, there were no attendees who will complaint against the project. We knew that the project was concerned in military area and a civilian's family heirloom. Only officials and a few of locals were invited to attend the briefing. However, there have been criticisms among the public," said one of the locals who attended the briefing.
The Yoma Strategic and FMI will be leading the Kawtthaung Hill Development Project. The project will be implemented on 197 acres land plot of the No.1199 Hill, one of the highest hills in Kawthaung. The project includes a 70-room facility hotel and 30 villas, resorts and holiday homes. There will also include a Marine Museum that will display the history of Taninthayi Region and its famous Salon tribe, Salon model village, cable trains, rail track, railway station and motor roads.
Kawthaung Hill Development Limited invested about 105 billion kyats for the project which will be implemented during 5-year period, according to Project Director Theik Tun Aung and Manager Thwe Myo Htut from Kawtthaung Hill Development Ltd.
"1199 is the highest mountain in Kawtthaung Township. The officials told at the briefing that the project will include cable trains, swimming pools and motor roads. We didn't know whether the government will allow the project or not," one of the locals from Kawtthaung Township.
Source: https://elevenmyanmar.com/news/yoma-strategic-invests-ks-105-billion-in-kawtthaung-hill-development-project