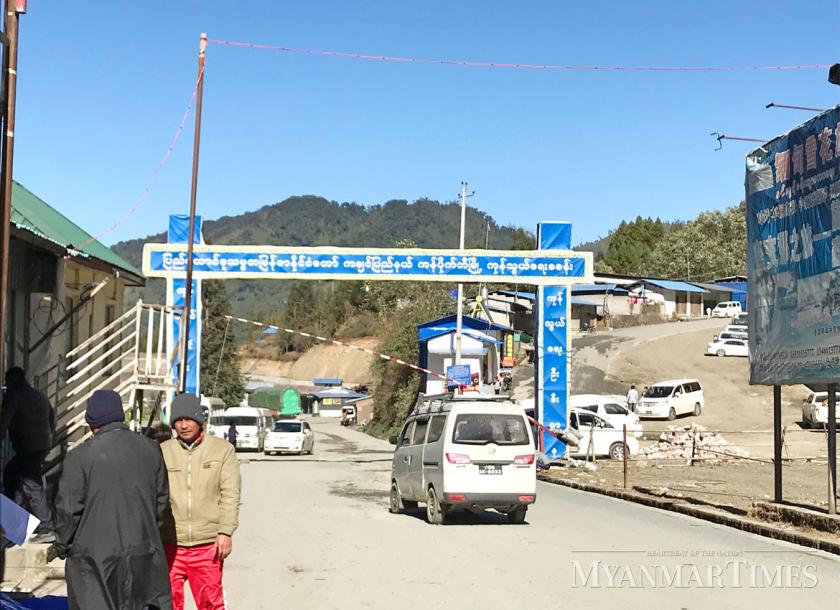 The current Kan Paik Ti border trade area. Chan Mya Htwe/The Myanmar Times
The Kachin State government this month signed an MOU with Myanmar Hein Investment Development Co to develop a border trade zone at Kan Paik Ti township in Waingmaw, Kachin State, which is near the Myanmar- China border.
Myanmar Hein Investment is a 30:70 joint venture established by ethnic Kachin-owned Kan Paik Ti Development Company Limited and Yunnan Htein Yin Trade Company Limited.
The project is now under regional parliamentary-level approval. The aim is to create job opportunities for local residents, promote bilateral trade and combat illegal trade, said U Wai Lin, Regional Minister for Finance, Revenue, Planning and Economics.
When complete, the Kan Paik Ti border trade area will become a major part of the China-Myanmar Economic Corridor (CMEC).
The project location is about 85 miles from Myitkyina and bordering Teng Chong of Yunnan province in China. "Major upgrade works are needed so that Kan Paik Ti can become a main trade gate in Kachin," U Wai Lin said.
Myanmar Hein Investment Development Company will build infrastructure across 75 acres of land for a development cost of US$22.4million (K33.6 billion). This will include civil servant housing, rest areas for travelers, parking lots and public toilets in the initial phase, while electricity and water supply will be implemented in the second phase.
The area will also include a Southeast Asia cultural market, goods exchange and logistics area as well as warehouses and shops.
Kan Paik Ti is currently a small trading hub for exporting bananas, watermelons, corn, chili, rubber, rice, iron and ores. Imports include chemical fertilizers, paper, iron rods, motorbikes, textiles, tyres, plastics, cement and pipes.
According to the state government, total trade at Kan Paik Ti amounted to US$296 million in fiscal 2018-19. After the upgrade, the area will be able to handle larger volumes of goods.
After the upgrade,  additional departments will be set up at the trade zone, including the Food and Drugs Administration Department to inspect food, Department of Road Transport Administration to inspect illegal vehicles, Agriculture Department to inspect seeds and plants, Livestock Breeding and Veterinary Department for livestock trading, Consumer Affairs Department for consumer related issues as well as the Health Department, said Minister U Wai Lin.
Currently, representatives from Trade Department, Customs Department, Immigration and Population Department, Internal Revenue Department, Myanmar Economic Bank and Myanmar Police Force are present at the trading post to handle trade-related issues.
The current trading post at Kan Paik Ti was opened in December 2003 and was suspended in June 2006. A subsequent appeal to upgrade the trading post to a major border trade zone was made and the trading post reopened in 2009.
In 2017, the approval process to upgrade Kan Paik Ti into an international border gate admitting international travelers was suspended due to infrastructure requirements and other regional issues.
A proposal to implement a regional border trade area was submitted by the Kachin State government in 2018 and then to the Union government in May 2019. Approval was granted in July 2019 under the direction of the President's Office,
according to U Wai Lin. – Translated
More detail:  https://www.mmtimes.com/news/myanmar-china-border-trade-zone-be-developed-kachins-kan-paik-ti.html